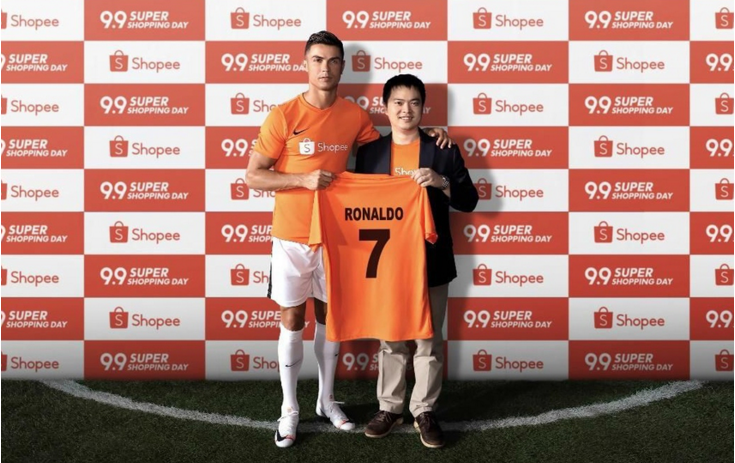 E-commerce platform Shopee, which is available across Southeast Asia and Taiwan, has signed Cristiano Ronaldo as a celebrity endorser.
The 34-year-old Portuguese football icon will work with Shopee on a number of initiatives beginning with the brand's "signature" annual shopping event, 9.9 Super Shopping Day.
"We are delighted to announce our partnership with Cristiano Ronaldo, one of the greatest athletes of our time," said Chris Feng, Shopee CEO." He is an inspiration to many, and his dedication to football matches the deep commitment we have towards our users."
A TVC starring Ronaldo has just debuted online, airing in all of Shopee's markets across the Asia region. In addition, fans in Southeast Asia and Taiwan will be able to "get up close and personal" with Ronaldo via exclusive content on Shopee LIVE.
The 9.9 Super Shopping Day is actually a nearly three-week event, running from 22 August to 9 September.
According to ASN data, Shopee has invested slightly over US$12.3m, securing a 1.2% share for the Retailer: E-Commerce category since Q416.  The brand is again on trajectory in the first half of 2019, sustaining its sponsorship spend, including a Q2 investment figure of almost US$4.2m, almost 4x its average quarterly total (US$1.03m).
Much of this investment is focused in Indonesia (48.4%) and Malaysia (44.2%), particularly via the backing of key local football properties such as Indonesia's Liga 1 (est. US$10m), Malaysia FA Cup (est. US$1m+) and Liga Malaysia (est. US$400k). It has also been getting more ambitious with celebrity endorsements on a regional scale, having secured an estimated US$1m+ deal with K-pop girl group BlackPink last November.