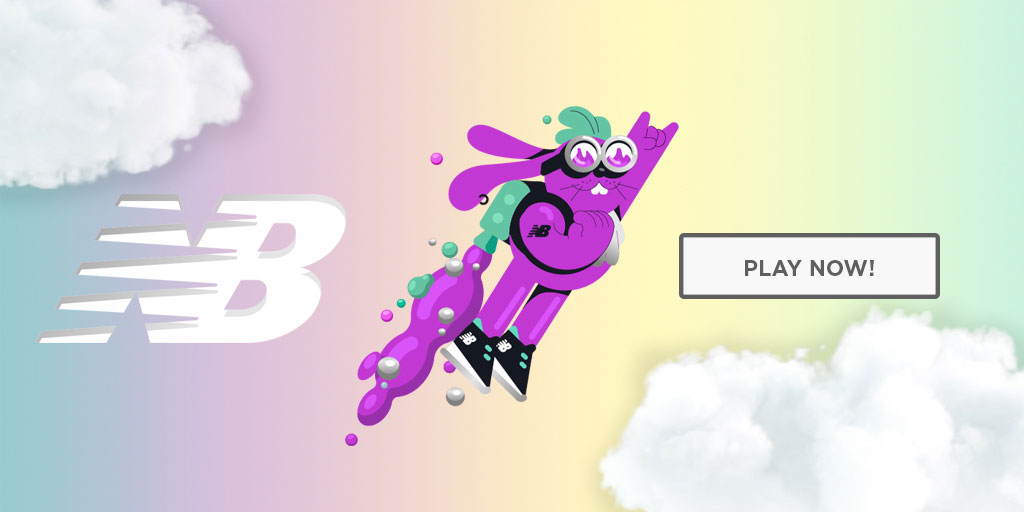 Sport apparel and footwear brand New Balance has engaged young consumers in multiple markets earlier this year through a mobile game.
Michaela Nee, New Balance integrated marketing associate, discussed this subject at the Interactive Advertising Bureau's (IAB) 2019 NexGen Marketing Summit in New York. The brand's aim was to promote its Fresh Foam running shoes among 13–24-year-olds in the United States, China, and Japan – a target audience that "is fairly averse to traditional marketing tactics," she explained.
To help achieve the brand's lofty goals, New Balance banked on a mobile advertising unit that housed a game, called "Cloud Jumper", that featured several branded elements. The challenge for players is to help "Newbie", an animated rabbit, hop from cloud to cloud using New Balance-branded trampolines and running shoes. And when players failed to land a leap, they could opt to play the game again or, alternatively, visit the brand's m-commerce store and browse its product range.
This game delivered a dwell time of more than 20 seconds for the average player, plus replay levels topping 80%, and clickthrough levels to its m-commerce store that were substantially ahead of industry benchmarks.
Perhaps the most significant outcome, Nee argued, was that "Cloud Jumper" demonstrated the benefits of making a bet on a previously untested format, rather than sticking with tried-and-trusted approaches, like online video.
"I think the risk is really falling back on the formulaic approach to content distribution," she told the IAB NexGen assembly in New York City.
"It's almost like that becomes the danger to growing our brands – it's not this kind of experimental ideas; it's pumping out all this content and only receiving two to three seconds [of attention]. So, I think, internally it's a huge learning and a huge step that we need to keep these sorts of concepts, [and] different distribution partners, in our consideration set in order to ultimately grow the brand."
According to ASN data, New Balance has a mere 0.4% share (US$4.9m) for its category in the Asian Sponsorship market since Q416, with much of its budget focused on three markets, namely Japan (51.7%), South Korea (13.4%) and the Philippines (12.9%).
In terms of sponsorship investment, the brand has increased its annual spend by over 9% from slightly under US$1.6m in 2017 to US$1.73m last year, and unsurprisingly much of its budget tends to be pumped into sport platforms, namely athletics events and the occasional dabble in football and golf. While Branded Content is hardly on its agenda, celebrity endorsements are a key facet of its strategy in China. But with gaming on the rise among Gen Z audiences, the brand is likely to dive deeper into this platform, a move led by its bigger rivals Nike and Adidas.