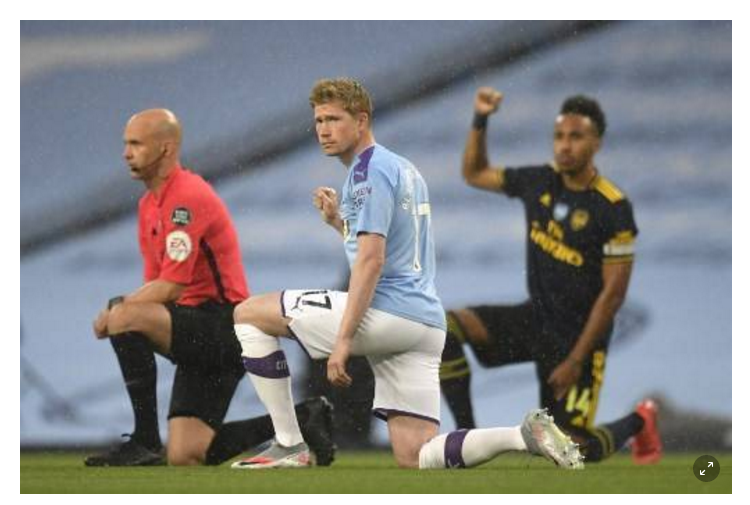 Commercial partners of English Premier League clubs could expect to receive global value between US$864k and US$2.4m for each game played behind closed doors, according to research and consulting firm Nielsen Sports.
The estimate was generated based on analysis across linear TV, over-the-top (OTT) platforms and social media of the new branding opportunities available to Premier League teams and their partners on netting in the lower tiers of closed stadiums.
Premier League clubs have been able to design their own stadium wraps, with many choosing to display the branding of their sponsors.
Nielsen's analysis, which assumes the branding repeats several times across the sidelines and behind goals, found that the zones on either side of the halfway line could generate anything from US$247k to US$741k per match.
The study said that particular branding position would be worth more than a club's principal partner might generate on a stadium LED board, which is traditionally one of the most valuable branded assets in football.
Zones closer to the corner were placed at between US$123k and US$370k, while areas behind the goal were predicted to generate US$86k to US$247k in value.
Nielsen said that the analysis was based on pre-Covid coverage and viewing behaviours, adding that it represents the value delivered to partners 'should the status quo remain'.
The changes to the schedule, which has seen each game have its own kick-off time, could have 'a significant impact' on the global value figure moving forward, Nielsen said, noting that linear TV is the primary value driver for most Premier League clubs.
Sky Sports has already recorded significant increases in viewership compared to the 2019/20 season average prior to the league's suspension, with the Merseyside derby between Everton and Liverpool on June 21st breaking Premier League records for a domestic broadcast as 5.5 million viewers tuned in.
Beyond the new stadium wraps, Nielsen said that it was 'too early' to tell if other branding value 'will increase significantly' based on the fact that all games are being broadcast in the UK.
'This is because the dilution of the value per match metric is a real factor in overall value, even though coverage is set to increase significantly,' the company said, adding: 'The real indication of whether this will grow even more is the continued coverage and viewing of all remaining matches internationally. European broadcasters have the rights to increase their coverage (in line with the UK) which in markets such as France, Norway and the Netherlands could provide further value delivered to sponsors.'
The estimate was generated using Nielsen's Whitespace Valuation tool, which analyses in-stadium spaces to determine the media exposure value over an entire season.
Asian brands have invested heavily in the league in recent years, and major brands including the likes of Emirates, AIA, King Power, Yokohama, Hyundai, Nexen Tires,  Chang and Singha will have benefited from this latest branding upgrade.