Midway through Q2 and ASN is already forecasting a strong recovery year for the Asian Sponsorship market after quiet back-to-back years in 2016 and 2017. The magic figure of US$10b could be reached...
It was always going to be hard to sustain a 4-year average annual growth rate of 29% and, back in 2016, the Asian Sponsorship market (including Branded Content) flatlined with meagre 1.4% year-on-year gains, before sliding US$0.5b backwards in 2017 (-5.8%); the first retreat of the ASN Index since 2011.
However, the 2018 picture is already looking much rosier with data suggesting the ASN Index could rebound with ~20% YoY gains, adding just under US$2.1b to the channel to break through the US$10b barrier (US$10.21b).
The recent ebb and flow of the marketplace can be isolated down to a few key dynamics:
The boom in '12-'15 began when brands began to cotton on to the power of Branded Content (in 'Non-sport' rather than 'Sport') and the Content genre doubled in size in '13 versus '12, then doubled again, then doubled again in '15 to reach US$4.72b or 55% of all non-traditional media spend in Asia
But the bubble burst in 2016 as brands, after (ASN suspects) 3 years of experimentation – and fatigued by the linear channels on offer – began to be lured by the accelerating power of digital advertising. Thus, the Content genre flatlined in 2016 and retreated 15% in '17.
With a 57% share of all Sponsorship spend in Asia over the last 8 years (including the '18 forecast figures), China is a market force in its own right. But it caught a cold in '16/'17, marching backwards 11% last year after relatively insignificant 4% gains in '16 (it averaged 76% gains from '12-'15!)
South Korea (ranked 2nd in terms of market share behind China), like the Index, also had 2 soft years of -5% and -1% in '16 and '17 respectively
Which areas will win in 2018?
Content is forecast to surge forward again with 23% gains, but live Events will be the big Index driver with an 83% growth forecast. Of course this can be attributed to February's Winter Olympics in Pyeongchang which generated US$778m in Sponsorship revenues from 59 sponsors, both international (from the TOP programme) and domestic (and, impressively, a balanced balance sheet).
In the context of the above, South Korea is in for a 274% bump in 2018!

But there's still another ~US$1.32b forecast to come into the marketplace… so it's not just about South Korea

Indonesia is a smaller market (ranked 9th, 1.4% share) but it is forecast to jump 107%, thanks largely to October's Asian Games which has already collected an estimated US$67.5m from the top 3 tiers of sponsor (20 to date)
The last dynamic is the constant tussle between the Sport and Non-sport halves of the marketplace; the yin and yang of Asian Sponsorship. As can be seen by the following chart, Sport is mounting a comeback after losing supremacy to Non-sport in '14, effectively bowing to the rise of General Entertainment, as mentioned above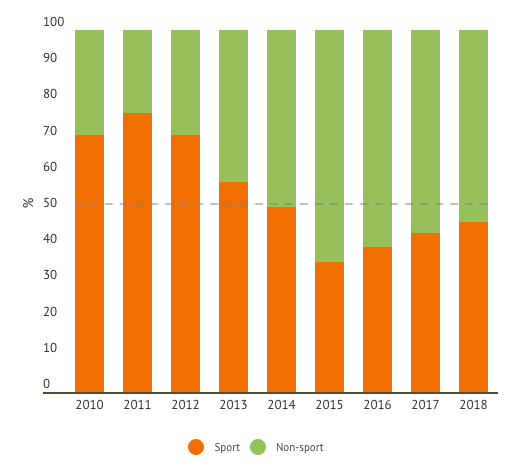 This dynamic should return to parity and in 2020 it will certainly tip back to Sport's favour as the Olympics juggernaut rolls into Tokyo for the Summer Games. That juggernaut will also pull the overall ASN Index for Sponsorship spend higher still, where we have longer range forecasts of US$26b for '20.
So, lots of positivity for the Sponsorship industry to take into the 2nd half of 2018 and beyond, as the channel continues to make inroads into the US$145b* media landscape in Asia.
* Source: ASN & WARC report, 2016
All data correct as at 01/05/2018
Photo credit: Terje Pedersen / NTB scanpix