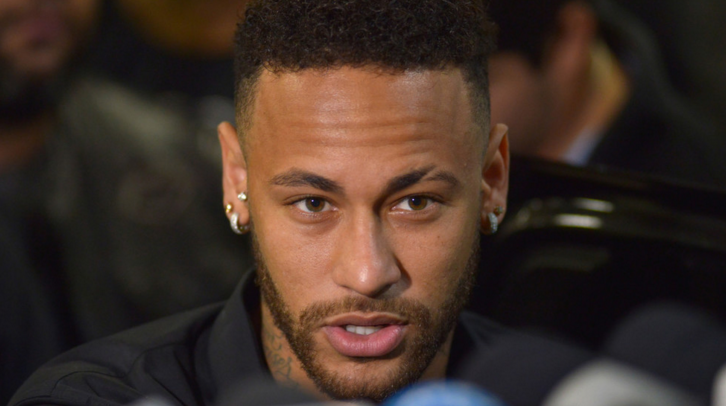 Nike has admitted it is 'very concerned' about a rape accusation against football star Neymar that has already seen certain sponsors distancing from the use of his image.
Following allegations made against the 27-year-old by a woman in an interview with Brazilian SBT TV, Nike has confirmed it is keeping an eye to the unfolding events. Neymar, who is alleged to have raped the woman in a Paris hotel in May, has denied the accusation and said the woman was trying to extort him.
'We are very concerned by the recent allegations and will continue to closely monitor the situation,' Nike said when asked about the accusation against the Paris Saint-Germain and Brazilian talisman.
A Paris police report shows that a woman had accused Neymar of raping her at a Paris hotel last month. Sao Paulo police are investigating the accusation. According to the French police report, the woman told investigators that she met Neymar on Instagram. Neymar suggested they meet in person in Paris and he paid for her flight and her hotel room, the report added.
Neymar's lawyer, Maira Fernandes, told Reuters after the footballer made a statement to the police, "We are absolutely confident that we will prove the innocence of our client… The process was thorough but he provided all the clarifications that were to be provided."
A Mastercard press representative in Brazil confirmed to Reuters that the company had planned an advertising campaign to coincide with the upcoming Copa America tournament but she did not confirm reports in Brazil's three biggest newspapers that the financial services firm had decided to suspend the use of Neymar's image.
Brazilian airline Gol Linhas Aereas Inteligentes, which featured Neymar in the run-up to the 2018 World Cup, said it was a sponsor of the national team but not individual players. A press representative declined to comment on the accusation against Neymar.
McDonald's and Procter & Gamble's Gillette brand, which both featured Neymar prominently in ad campaigns last year, said they had no current contract with him.
Meanwhile, in Asia, the likes of Oppo, TCL, Replay and Harbin Beer have significant endorsement deals in the US$1m range with the Brazilian superstar and are certainly watching how the events unfold in the upcoming weeks before making a decision. However, it is clear the brands have missed an opportunity to activate any Copa America themed campaigns for the region.