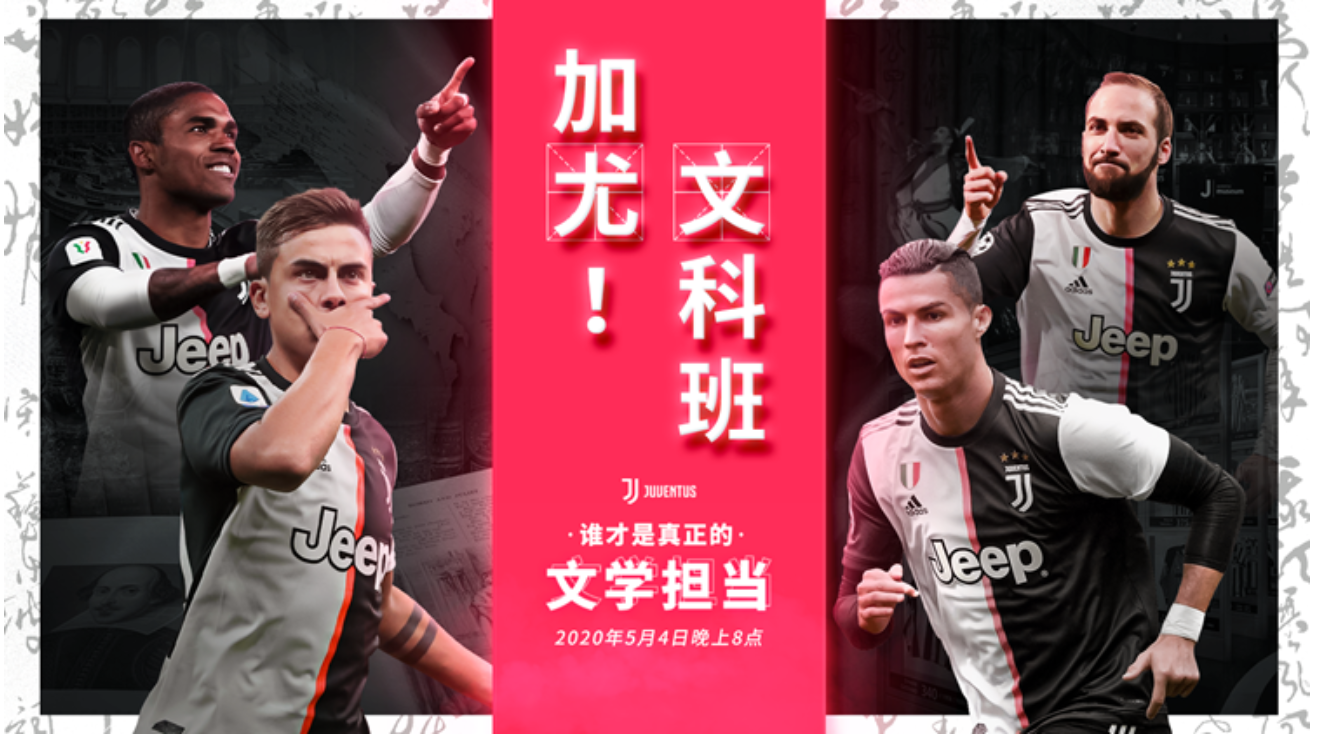 Serie A's Juventus has become the latest sports team to serve up online content for its fans in China, creating a landmark interactive gameshow for its fans.
Judging by the response, it has been a resounding hit with the stream reaching a total viewership of 11.2 million, as well as 30,000 engagements and 2 million reads. Part of Juve's J-Squad initiative, the two-hour live stream saw supporters put into teams and compete against each other. Billed as an online football match, including two halves, a half-time segment, and a post-match review, the event featured audience participation through Weibo poll voting to help decide the outcome of the show, plus dedicated hashtags.
The presentation was an original format for a European football club in China and was broadcast live on major social media outlets including Juve's official Weibo account, via Yizhibo, and WeChat, as well as on Douyin.
China has always been a key market for the reigning Serie A champions as it boasts 37 official Juve fan clubs, the most for the team outside of Italy, while there are also 4 million followers across the team's social media accounts in the country.
Juve had continued its push into China with a mix of both offline and online activities, including touring the nation in 2019 for a pre-season and launching the J-Squad activation that attracted a total of 50 million views on Weibo. They also produced the Juventus Village in Shanghai, a 1,500 square-foot fan experience hub at the foot of the Oriental Pearl Tower.
Luca Adornato, head of marketing at Juventus, said, "​It's more important than ever right now for us to be delivering original and creative content for fans in China, and across Asia. We're tailoring our content specifically for each region in order to allow our fans to feel closer to the club and become more actively involved," said Luca Adornato, head of marketing at Juventus
"The recent live stream was a great platform to give our fans a voice and have them involved with our events, especially during a time when there are no live matches."
Federico Palomba, managing director, APAC, at Juventus​, added, "​The club opened an official office in Hong Kong last year to bring us even closer to our fans, partners, and media friends. It's been a tough time for all during the Covid-19 period, and that's why we've been working hard to deliver inspiring and entertaining content for our fans to keep spirits high and strengthen the connection with the club."