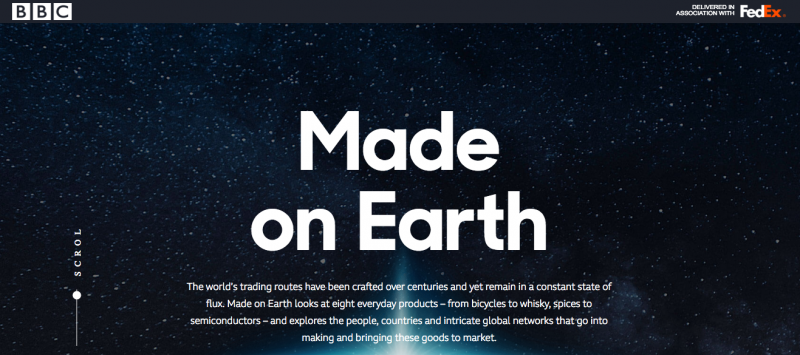 FedEx Express has secured a deal to partner BBC Global news in a branded content deal, including key Asian markets.
Under the deal, FedEx Express will back Made on Earth, a new TV and digital series. The series will be subtitled into local languages to appear on international BBC News sites, including BBC Chinese and BBC.jp in Japan.
The partnership also includes a dedicated website that features articles, links, and episodes on the BBC's dedicated video streaming section, BBC Reel, and a series of commercial films created by BBC StoryWorks, BBC Global News' commercial content-marketing division. The first run of the series is expected to be out in autumn.
Made on Earth explores the story of the world's remarkable and ever-adapting trading networks which help businesses reach billions of potential customers around the world, revealing key moments, worldwide shifts, and changing trends happening in the industries involved in creating eight everyday products: spices, paper, coffee, flowers, whisky, handbags, bicycles, and semiconductors.
"Global trade is our business.  The unique combination of the BBC's compelling storytelling and worldwide reach will ensure that the subject of international trade will make an impact with audiences globally," said Brie Carere, FedEx Corporation executive vice president and chief marketing and communications officer.
According to ASN data, FedEx is the 3rd largest spender (5.5%, ~US$7.4m) for the logistics category since Q117, with all spends coming in sporting platforms particularly in badminton, tennis, golf and boxing. However, its spends for Q319 have been a mere US$19k, way below its quarterly average of almost US$627k, namely due to a withdrawal of a high-profile deal with the China National Badminton team worth almost US$3.5m in August. Its dive into a global branded content deal with the Beeb is likely to augur more such deals in Asia as it reassesses its spends in sport-related deals.