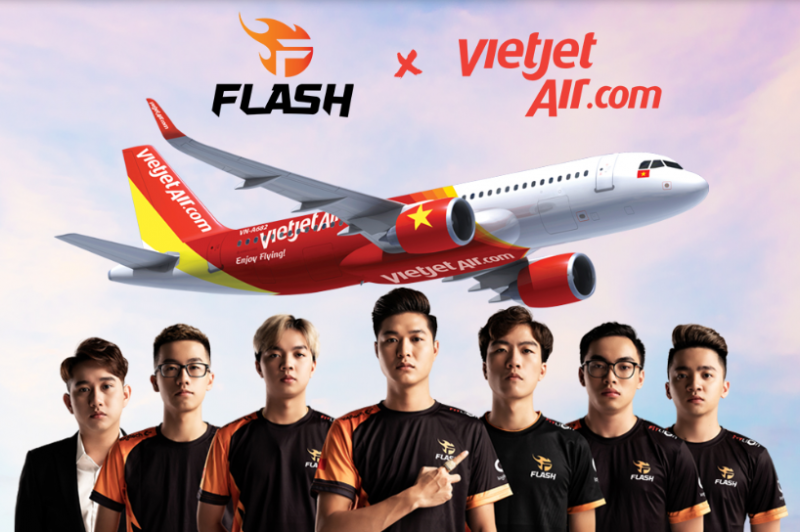 Vietnamese budget carrier Vietjet has secured a deal with Southeast Asian esports organisation Team Flash that will see it become the team's official airline partner.
The deal is applicable to domestic and international tournaments, as well as in training and fan meetings, which Vietjet hopes, will contribute to developing local talents in Vietnam's fast-emerging esports industry.
Team Flash has invested heavily in Vietnam since February 2018, with particular focus on Arena of Valor (AOV), the current most popular eSports game in Vietnam. Team Flash's Vietnamese team was also recently crowned world champions at the 2019 AOV World Cup (AWC), which was held in Da Nang earlier in July.
The team won US$200k in prize money and Vietnam's first international title for eSports. The same team also represented Vietnam at the inaugural Asian Games showcase in Jakarta last year.
"Aiming at becoming a consumer airline, Vietjet has gained popularity in Vietnam and internationally for always pioneering in consumer innovation on e-commerce platform," said Jay L Lingeswara, the deputy commercial director of Vietjet.
"We are delighted to partner with a high-potential startup in Team Flash and create favorable conditions for their players to showcase the talents of Asian youths in international competition."
Terence Ting, the chief executive of Team Flash added: "Vietnam's young generation may not read newspapers or watch television, but do they watch esports matches in stadiums and on YouTube. They may not all have serious gaming PCs, but they do have smartphones."
"Whether it's brand activation with a team or a league, there are many opportunities for brands to get involved in esports, which have an undeniable ability to reach the valuable target audience of 14 to 28-year-olds."
With Vietnam gradually growing as a regional and international sporting venue, it wouldn't be a surprise to see Vietjet and Team Flash collaborating on activations similar to the latter's tie-up with French football club Paris Saint-Germain (PSG) in hosting an esports challenge as part of 2018 International Champions Cup (ICC) leg in Singapore.
Looking at Vietjet's moves in the Asian sponsorship market, its deals tend to be between the US$35k to US$52k and are focused on three markets: Vietnam (63%), Thailand (21.6%) and Singapore (15.4%). With the exception of Miss Universe Vietnam, most of the carrier's deals such as Thailand's Bikini Beach Race tend to be short-term ones. Vietjet's partnership with Team Flash is also its first six-figure (~US$100k) deal in the market and shows it is willing to replicate the moves of its more established regional rivals like AirAsia in the esports industry.