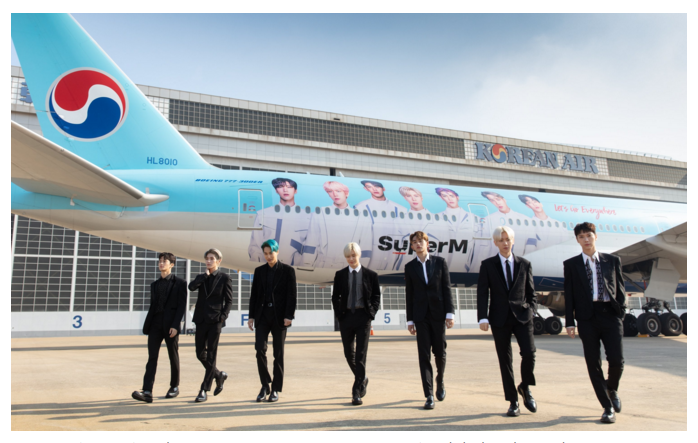 Korean Air has secured a high-profile endorsement with K-pop supergroup SuperM, recently unveiling a livery of the group on a Boeing 777-300ER aircraft.
South Korea's national carrier's latest partnership will involve a range of marketing activities with SuperM across the world. The K-pop supergroup has already starred in the new Korean Air in-flight safety video (below), which has won over 3.8m views on the airlines' official YouTube channel since premiering on November 4th (at the time of writing).
There's a precedence among Asian airlines to roll out customised aircraft livery for Celebrity endorsements. For example just last year, AirAsia had the first UFC branded livery on an AirAsia Airbus A330-300, as part of a partnership with the leading mixed martial arts organisation. And it's not a cheap proposition with each paint job costing in the region of US$500,000.
This year, the airline has continued with its diverse sponsorship strategy, spending across 10 platforms in Asia: from Branded Content to K-pop to Golf, Films Festivals, Athletics and Table Tennis.
A glance at ASN's data shows that Korean Air now has a 1.9% share (~US$5.7m) in the Asian sponsorship market in its category (last 3 years to date) and no longer falls within the top 10 airline spending brands (when comparing airline spends across the last 10 years to date, it ranks 10th ).
Korean Air's sponsorship contract totals will also look unfairly worse in 2019 compared to last year – showing an almost 2.4x decline from US$3.8m to US$1.6m – due to the discontinuation of its big-ticket sponsorship with the 2018 Winter Olympics in PyeongChang.
That said, the airline is fast challenging the airline establishment and despite its 2018 financial year profits being hit by rising fuel costs, the airline is winning awards, especially for its Economy inflight product and customer service.