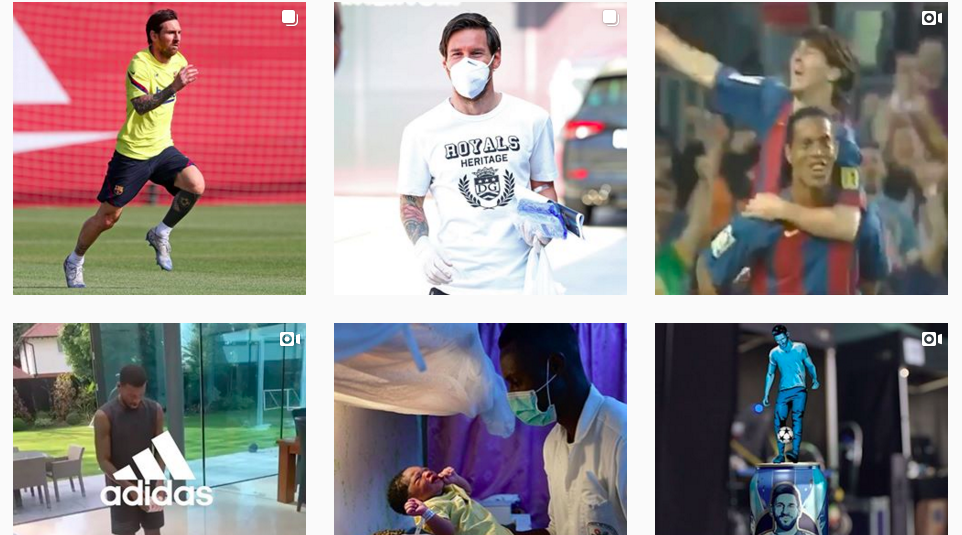 A new report examining the social media influence of footballers during the COVID-19 pandemic has found that they are experiencing an 82 per cent rise in video views of their content.
The Football During Lockdown study – a joint effort between sports marketing agency Redtorch and digital media company 90/24 Media – reveals that footballers have the highest average engagement rate on Instagram compared to athletes in other sports.
In addition, the report found that footballers are producing 15 per cent more video content than before the COVID-19 health crisis.
The report goes on to say that footballers have experienced a faster growth rate overall on Instagram during the shutdown of live sport, as more athletes turn to social media to connect with their fans. In contrast, the report adds that other sports teams, media publications, leagues, and brands have experienced a slower growth rate in the same period.
With most of the population staying at home, the report states that 44 per cent of people are spending longer on social platforms, with Instagram seeing a 40 per cent increase in use by individuals under the age of 35.
Redtorch and 90/24 Media's collaboration specifically looked at how COVID-19 has affected the relationship between three key stakeholders – players, brands and fans.
With the rise of social media use during this period, the report encourages those in football to continue to communicate and engage with their audiences through social platforms. It goes on to spotlight that there has been a 70 per cent increase in people using Instagram Live, while 87 per cent and 80 per cent of US and UK consumers respectively are consuming more content.
Videos are highlighted as the key source of engagement, with 38 per cent of people saying they are consuming more video content during the pandemic, while 73 per cent stated that they plan to consume just as much video content when lockdown is over.
The report suggests that footballers could serve as a solution to help brands reach, influence and engage fans during thiis pandemic. It notes that players have the highest engagement rate of sports properties and brands (3.9 per cent), a 1.4 per cent faster growth rate than brands, and are the only group to experience a positive uplift in followers (plus 6 per cent) during this period.
By way of comparison, sports media has seen a positive uplift of 3.2 per cent, while sports leagues, sports teams, and brands have seen increases of 2.6 per cent, 2.5 per cent, and 0.9 per cent, respectively.
To further compare the appeal of footballers, the report shows that while the gaming industry is producing more video content, it is only experiencing a 21 per cent increase in video views.
Football During Lockdown concludes that stakeholders should use this time to invest in building their brand, leverage the demand for online media consumption, and address people's needs with authentic content.
Finally, it highlights that footballers are 'gatekeepers to communities' and to 'use them to grow or maintain your share of voice in a way that's sympathetic to the current situation'.
The study follows Conviva's 2020 Q1 State of Streaming report, which found that the Premier League, English soccer's top flight, increased its year-on-year social media engagement by 146 per cent during the first quarter of 2020, despite posting less content.