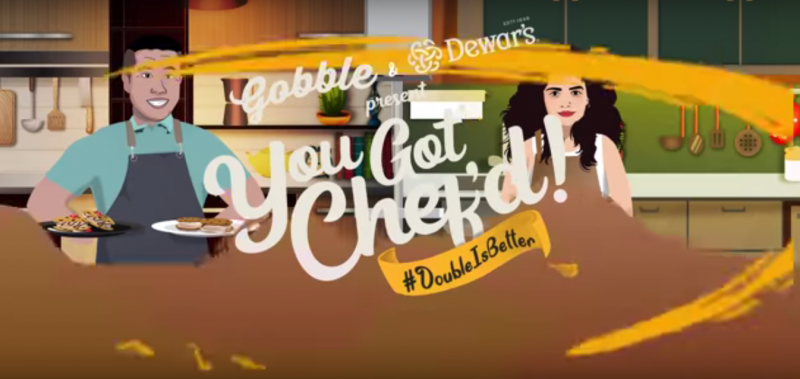 Bacardi owned brand Dewars has recently collaborated with Gobble, the food channel of the Sequoia-funded digital content player in India, Pocket Aces.
The Dewars backed You Got Chef'd! series was released in late December and pits local influencers cooking street-style versions of their favourite dishes against Mumbai-based Canadian celebrity chef Kelvin Cheung upscale versions. It also features Dewar's India ambassador Ernest Reid concocting a perfect cocktail to accompany the dishes.
The short-form, five-episode series targeting Indian millennials showcases the chemistry between Chef Kelvin Cheung and influencers such as Rannvijay Singha, Mithila Palkar, Shibani Dandekar, Sumeet Vyas and Dhruv Sehgal.
It plays on the idea that two cooks are better than one, keeping Dewar's tagline 'Double is Better' as the central theme. The main goal for the whisky is clearly to ensure brand awareness among young consumers, particularly when Gobble reaches over 20m people weekly, a much higher figure than most TV channels. Bacardi is admittedly gunning for the premium market in India.
Commenting on the show, Sonalika Mehra, Head of Gobble, said, "It was exciting to work with the Dewar's team to reinvent the popular celebrity-food show format to make it snackable and fast paced — which is crucial for digital audiences."
"It is a common perception that food content is watched by older audiences, but our data tells us that this is not true at all. Food (and drinks) is a huge currency for millennials. We have a simple thumb rule while creating content: to make it shareable and relatable, and we've applied this to You Got Chef'd! as well."
Anshuman Goenka, Bacardi India Marketing Head & Whisky Head EMEA, added, "This new format perfectly weaves the growing consumer trend towards gourmet street food and quirky whisky cocktails to go with each dish. Dewar's Scotch has a unique proposition — it is double-aged, which makes it extra smooth, and we felt the pairing of two completely different people in the food world really brought alive our positioning of 'Double is Better'.
According to the ASN Index, Bacardi (the parent company of Dewar's) has invested US$655k, just under 1% of the market share in the Indian sponsorship market since Q216. However, it has been relatively consistent in terms of yearly spends with much of the budget allocated to the title sponsorship of the NH7 Weekender music festival (~US$160k). Prior to its Gobble partnership, Dewar's had collaborated with MTV for three seasons of The Dewarists, an award-winning part-travelogue-part-music documentary series focusing on India's indie music scene from 2011 to 2013.
The market also saw several landmark alcohol-related deals late in Q4 last year: namely a brace of multi-million global partnerships between Bira91 and Royal Stag with the International Cricket Council (ICC). Bacardi and these deals aside, the category has been very soft in India in 2018, with sponsorship spend from competitor alcohol brands dipping by 45.6% in 2018, from ~US$45.3m in 2017 to ~US$24.6m.