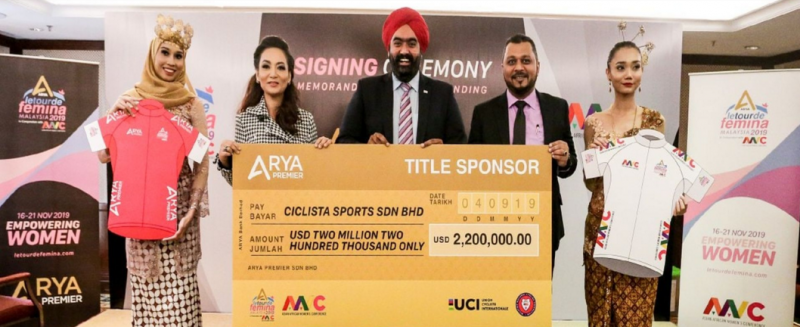 Malaysian-based Arya Premier - which specialises in events and strategic partnerships - has become the title sponsor of the inaugural Le Tour de Femina 2019 (LTdF).
Arya Premier is pumping US$2.2m into the race which will see the participation of professional and international women cycling teams from Africa, America, Asia and Europe. Besides title sponsorship, Arya Premier has also been given the exclusive rights to the overall pink jersey for the best rider and white jersey for the Best Asian rider.
LTdF 2019 will be Arya's first big-ticket partnership with an international sporting property, said Vice Chairman (Operations), Nor Azhar Hamzah at the sponsorship ceremony.
"We are truly excited and thrilled to be part of Le Tour de Femina 2019 for the first time. It fits our beliefs and efforts especially in helping to contribute towards the empowerment of women in the field of sports and in particular cycling, not only locally, but also regionally and globally," said Nor Azhar.
"We believe that LTdF provides us with a great platform not only to help us to further expand or brand and commercial purposes, but also to be involved in a unique event which brings about social and economic benefits to the community as well as help elevate Malaysia's standing as a leading sporting nation, regardless of gender or background," he added.
Arya LTdF 2019 is slated from 16 to 21 November and organized by Ciclista Sports Sdn Bhd in collaboration with the Ministry of Youth and Sports and the Malaysian National Cycling Federation (MNCF). Its goal is to empower sportswomen and make Malaysia one of the major cycling hubs in the region.