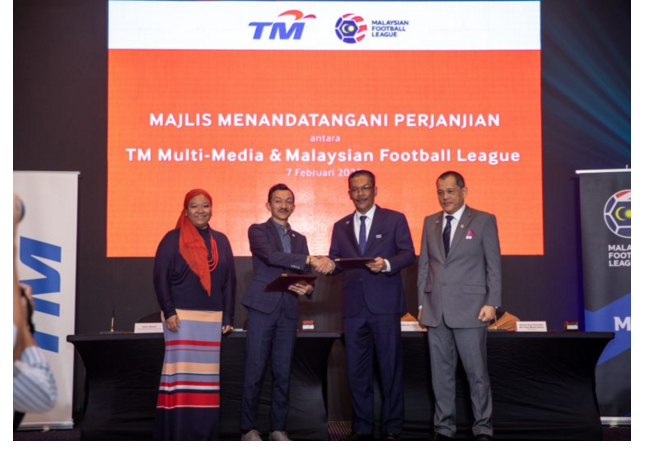 Telekom Malaysia (TM), via its subsidiary TM Multimedia (TMM), is now the title sponsor of the Malaysia Cup and co-sponsors of the Super League, Premier League, FA Cup and the Challenge Cup.
A three-year deal was inked between Telekom Malaysia (TM) and the Malaysia Football League (MFL) at the TM Convention Centre in Bangsar. The deal also covers exclusive broadcast, mobile and online streaming rights for the Charity Shield, M-League, FA Cup and Malaysia Cup on all Unifi television platforms.
MFL president Datuk Hamidin Amin and acting chief executive officer Datuk Ab Ghani Hassan together with TMM chief executive officer Moharmustaqeem Mohammed and TM group brand and communications vice-president Izlyn Ramli were present during the signing ceremony.
"We are thrilled to rekindle our partnership with MFL, making TM the longest-running sponsor for a football event in Southeast Asia," said Moharmustaqeem.
Hamidin said they are grateful to collaborate with TM once again.
"TM's long-term commitment to the league proves that the M-League has the potential in all aspects. They have always been a loyal supporter of Malaysian football," said Hamidin.
The move comes almost a year after Telekom Malaysia had acrimoniously pulled out of a lucrative eight-year deal worth US$124m with the Malaysian Football League (MFL).