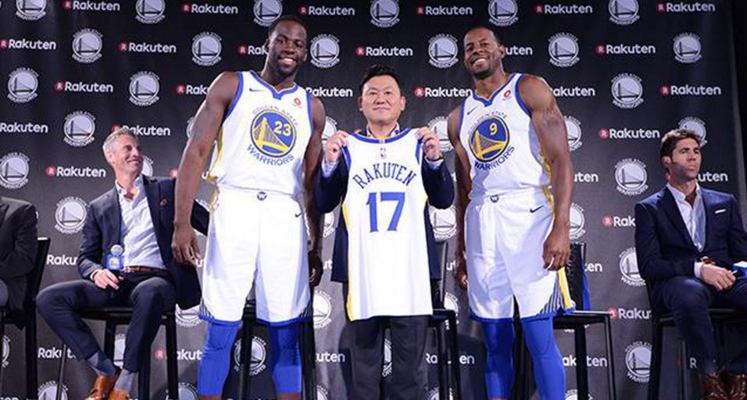 The chief executive of Rakuten's Americas operation has revealed that the Japanese e-commerce giant is keen to extend its deal with the Golden State Warriors.
Speaking to the Bloomberg news agency, Amit Patel highlighted how Rakuten's partnership with the NBA powerhouse has been crucial to raising brand awareness in the US, pointing to the fact that the company has seen its brand recognition among basketball fans in the country climb 300% since the deal.
Rakuten and the Warriors signed a three-year deal back in 2017 worth a reported US$20 million per year, making it the most valuable of the NBA's 30 (jersey patch) sponsorships.
The partnership is due to expire at the end of next season, but Patel emphasised that the company is hopeful of continuing its relationship with the Warriors, who have been crowned NBA champions in two of the last three campaigns.
"We certainly want to play the long game," Patel said, speaking to Bloomberg at the Rakuten Optimism event in Yokohama. "We continue to evaluate the opportunity and look for ways to extend its life."
Rakuten has put sport sponsorships at the heart of its efforts to grow its brand both domestically and internationally. It is currently ranked top in the Asian sponsorship market (35.4%, US$353.1m) for the e-Commerce category with quarterly spends consistently between US$35m to US$41m since Q317, thanks to massive global deals with Spanish football giant FC Barcelona and the Golden State Warriors.
Much of the brand's Asian spending is focused on its domestic market: long-term deals with the likes of J-League team Vissel Kobe (~US$4.1m), baseball team Rakuten Gold Eagles (~US$4.2m) and the ATP Japan Open (~US$2.3m) being the most salient. However, it has shown signs that it wnts to move into edgier platforms, namely Extreme Sports platform, thanks to a brace of Spartan Race partnerships in the Philippines and Singapore in 2019.