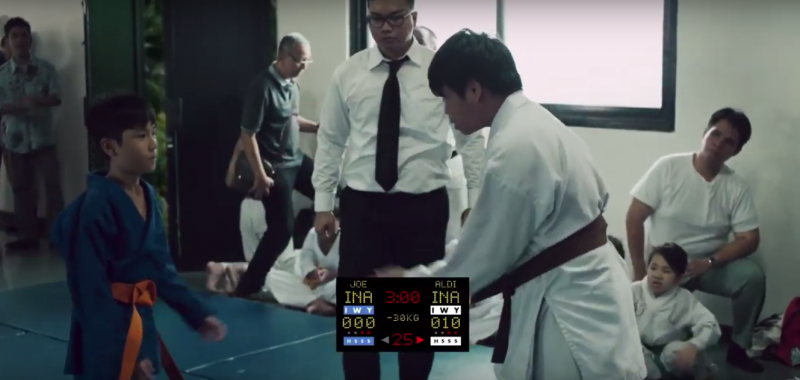 Indonesian roller gel supplement Jointfit has pushed itself into braver territory with an innovative Branded Content platform, including a film based on the life of its celebrity endorser.
The eight-minute film – called  #KeepOnRollin – created by Grey Indonesia succinctly chronicles Joe Taslim's journey as a national Judo champion for Indonesia and eventually Hollywood actor despite a troubled childhood and history of sport injuries. Combiphar, the parent company of Jointfit, hopes the film will inspire audiences to stay strong in life.
According to Combiphar's consumer intensive care marketing VP, Evi K Santoso, the company has also launched the short film in cinemas as well as digital platforms such as Youtube and Instagram for the enjoyment of Indonesians. "Jointfit chose film as the media of communication because we felt it would be effective in reaching our target market," she added. Since the film was shared on Jointfit Indonesia's YouTube channel on August 3rd, it has garnered over 10,000 views at the time of publication.
The story showcases how Taslim found a new career as a Judo athlete after his dream of becoming a badminton athlete was dashed. After suffering a knee injury, he also went against the odds in a Judo championship for Indonesia to clinch a medal. "However, the obstacles did not stop, the knee injury that I had been experiencing for some time often triggered pain. To get comfortable with movement and activity, I found that Jointfit can be a solution to relieve pain and help maintain the health of my joints," added Taslim.
According to ASN data, Combiphar is an almost virgin entrant on the Sponsorship scene for the pharmaceutical category (in Indonesia), since Q416, with a mere 0.5% share (US$639k). It has plunged into backing a trio of sport-related platforms, namely its own Combi Run, golf's Player Championship and the 2018 Asian Games. All deals tend to just creep into the US$ six-figure range. So the brand is experimenting, but with the help of Grey, it is clearly pushing itself into braver territory with this branded content play alongside Taslim.